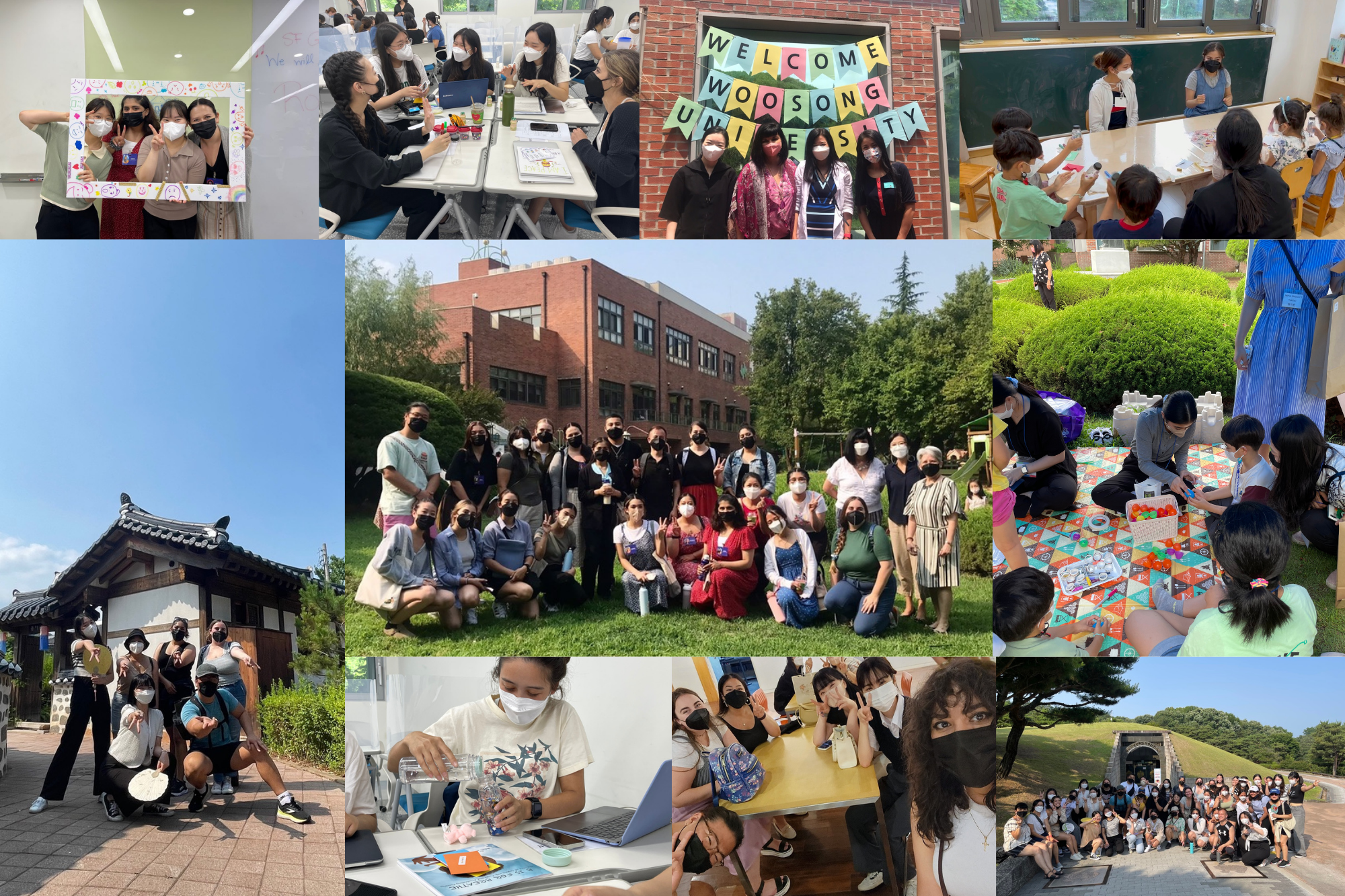 June 8, 2022
After putting our Psychology Faculty-Led Study Abroad on pause for two years due to the pandemic, our 2022 cohort is thrilled to finally take our program to South Korea this summer. While staying at Woosong University in Daejeon, 17 undergraduate and two graduate students are excited to take part in a unique service-learning experience. From teaching our Social Emotional Learning (SEL) curriculum at local schools to exploring the country with students of our host university, this year's cohort plans to make the most of our upcoming three-week journey. 
Sophomore Laurie Chiang says that in thinking about her upcoming international travel, staying calm has been a challenge—and understandably so. She says, "I am extremely excited for this trip. I believe it will be such an enlightening experience and I am so grateful to be a part of this program…I believe it will be life-changing". 
Guided by Dr. Jae Paik, Dr. Rita Rodriguez, and Dr. Sinchieh Duh, our SF State students spent this spring semester preparing for all aspects of the program. They've become experts at Global Classroom SEL by working together to serve our Bay Area communities, learned about Korean language and culture, and prepared necessary travel items and documents. These are just a few of the countless steps our cohort has taken to ensure their adventure will go off without a hitch. 
For many, the most crucial ways to prepare for a trip like this go much deeper than renewing their passports or researching fun excursions. Senior Brianna Salas believes that the friendships she's made have been the most important part of preparing for the experience. 
"Due to COVID, I felt like I have lost my voice and become an introvert," she says. "This class has helped me gain more confidence and brought me out of my shell. I feel like I've grown into a better student and person with the help of my friends in the class". 
In addition to appreciating their long-lasting friendships among the cohort, students reflected on how they wish to personally evolve through their study abroad journeys. Junior Hannah Kesten paid great attention to how international travel will open her eyes to new cultures and people. She says she hopes to grow "a higher level of cultural competency and understanding" that she will carry through her future career in psychology and related fields. 
An effective way students can broaden their perspectives and horizons is by leaping into one of the most culturally challenging situations one can endure: traveling abroad without fluency in the native language. However, Junior Mavel Balingit is ready to tackle this challenge head-on. 
"I have learned a few phrases of the Korean language, but I am aware of how difficult it will be when we are working with Korean faculty and students, as well as the young children in Korea," she says. "However, I am ready to challenge myself and allow myself to step out of my comfort zone in order for me to grow". 
In considering challenges like culture shock, Sophomore Bella Davis maintains a go-getter attitude and wants to "approach full-on with an open, receptive, and humble mind". She says, "I'm confident in my ability to assess and adapt". 
Although our cohort expects to encounter some obstacles along the way, they are looking forward to the adventure in incredibly inspiring ways, which is an achievement in itself. The growth the cohort has accomplished will only continue to thrive during our journeys in South Korea. It will be an experience of a lifetime, all thanks to continued support by the many departments, personnel, and faculty at San Francisco State University that make such large faculty-led study abroad programs possible. It has also been a multifaceted international collaboration to reach this point—a synergetic effort that both our cohort and South Korean communities will benefit from for years to come. 
Starting June 14th, we will update our blog daily over the next three weeks. Please follow our journey here!
—Madeleine Lester
July 1, 2022
Traveling to a foreign country is an exciting, difficult, and extraordinary event that our 2022 cohort members feel has changed their lives in many ways. Between flying halfway across the world and acclimating to daily life at Woosong University in Daejeon, our SF State students have seen a heap of ups and downs. Despite the expected but taxing obstacles they've faced, our group is looking at their remaining time here with remarkable confidence and enthusiasm. 
From day one, certain members of the cohort were met with many challenges—culture shock, delayed flights, travel fatigue, and more. However, Junior Joanna Pablo managed to stay on the bright side and soak up everything she could during her first few hours in South Korea. 
In reflecting on her travel experience with 14 of her classmates, she mentioned, "Being at the airport, as long as it was, was really fun being with everybody". 
As soon as Pablo touched down in Incheon, she noticed some distinct cultural differences between Americans and Koreans. She had an instinct to adjust her behaviors in a way that would resonate with people from the country. She said, "Whether it was in the elevator, at a café ordering a coffee, or ordering food, I was noticing how other people were doing it and tried mimicking it". 
In addition to reminding her group to maintain a quiet, considerate tone, Pablo picked up on the value Koreans place on courteous communication. "The amount of times I heard people say 'gamsahabnida', which is 'thank you', the way they greet the workers at the airport—just really respectful", she said. 
After a much needed night of sleep at the Woosong International Dormitory, the cohort was ready to absorb everything Daejeon has to offer. But before the fun began, students and faculty headed to a local COVID-19 testing center for PCR tests. Most members received their negative results within 24 hours, but a few students' tests came back late, resulting in a three-day quarantine in the dormitory. 
Junior Maxine Abergas was one of four students unable to participate in our first festivity: a welcome luncheon with our Korean co-teachers. She was excited to meet her group after months of Zoom calls and Kakao Talk chats, so she was understandably disappointed. But, she said the "quarantine crew"  leaned on each other for support and "would help each other out".
This was just the first instance of our cohort serving as helping hands and open ears to one another. As the reality of studying abroad set in, many found themselves homesick and longing for supportive connections. 
Pablo has been on both sides of this struggle. Although she's gone through her own bout of homesickness, she found ways to help others going through the same situation. She said, "The way we're supporting eachother is by inviting each other out. If one of us is going out, getting coffee, listening to music, or watching a show, we try to include each other". 
Abergas also found an unexpected way to battle her yearning for home. She and a few other students have missed their Pilipino culture, specifically the cuisine. But only a few days into the program, they were delighted to come across another group of Pilipino students at Woosong. 
"Isabelle, Mavel, Ciara, and I are going to meet up with them to eat Pilipino food because we miss it so much. We found some people here to help us find some food from home", she said. 
Feeling a growing sense of community has been a common sentiment during our students' experiences so far—a theme of which our Korean co-teachers have played a major part. They've opened their arms to our cohort by showing them their favorite places in Daejeon, having meals together, and teaching them about traditional Korean culture. Junior Hailie Wood said, "I love my Korean co-teachers. They're super awesome". 
After spending some time teaching local Kindergarteners with them, Wood noticed that the Woosong students play a huge part in making sure our SEL lessons run smoothly and that the children enjoy the curriculum. She said, "They're always ready to go, always ready to help and learn."
Senior Alex Marroquin says his co-teachers are "really sweet, nice people" and was thrilled to find how interested they are in spending time with him. He said, "It shows that they want to talk to us…they want to hangout". 
While students like Marroquin have found new friendships within and beyond the cohort, he's realized one of his biggest accomplishments so far concerns his career goals. 
"Even though I can't really talk to the students here, it's [teaching SEL] made me want to become a teacher and that wasn't really on my mind before", he said. Marroquin wants to learn as much about teaching as he can from the Woosong students, SF State faculty, and his fellow cohort members. 
Although our SF State students have and will continue to endure challenges that commonly accompany study abroad, they are finding support from both the cohort and Woosong students. They are making long-lasting friendships that will stand the test of time (and distance), gaining an appreciation for Korean culture, and learning valuable life-lessons about themselves and their peers. With only one week left of our program, our students are excited to continue to growing as psychologists, teachers, and friends. 
We are updating our blog daily! Please follow our journey here. 
—Madeleine Lester